Events
Each year Chessie members take part in a number of activities, beginning with our annual observance of Saint Patrick's Day on a weekend in mid-March. Recent years have included trips on Amtrak to the railway station restaurants in Staunton and Charlottesville, Virginia, the Northern Central Railway in New Freedom, Pennsylvania, the Indian Head Central Railway in Indian Head, Maryland, the Wilmington & Western Railroad, and a special Amtrak stop at the Iron Horse Restaurant in Ashland, Virginia. In 2004 we arranged for a special rare mileage trip on the West Chester Railroad all the way from West Chester to Philadelphia and return, with photo stops enroute. For 2005, Chessie members took Amtrak from Washington Union Station to Philadelphia, rode several different SEPTA routes around the city, took a PATCO train over the Delaware River to Camden, and then boarded the New RiverLine to Trenton. There we enjoyed the fine dining offered by Pete Lorenzo's restaurant before catching an Amtrak train back to Washington.
In 2006 we planned to ride Amtrak from Washington Union Station to Ashland, Virginia, where the CSX (ex-RF&P) tracks run through the center of town, to have lunch at the Iron Horse Restaurant. CSX track work led to the cancellation of our trains' operations only weeks before our trip, so we had to cancel it for the year. We did, however, make the trip on March 17, 2007, with a special stop in Ashland by both our southbound and northbound trains, which ordinarily didn't make stops in the town. We enjoyed a delicious lunch at the restaurant and sipped Irish Coffee at the bar while watching for trains through the restaurant's plate glass windows. Our layover provided us with the opportunity to shop in the nearby hobby shop, have dessert in the ice cream shop across the street, and then catch our train back to DC.
On March 16, 2008, we celebrated Saint Patrick's Day by taking Amtrak's westbound Cardinal from Washington Union Station to Culpeper, Virginia, a ride of an hour and 25 minutes. Our group of 28 trip participants arrived at the visitors center located in the large redbrick former Southern Railway depot and fanned out to enjoy the various restaurants in town for lunch, dessert, and coffee. While in town we watched as several Norfolk Southern freight trains passed through and then caught the eastbound Cardinal back to Washington in the evening.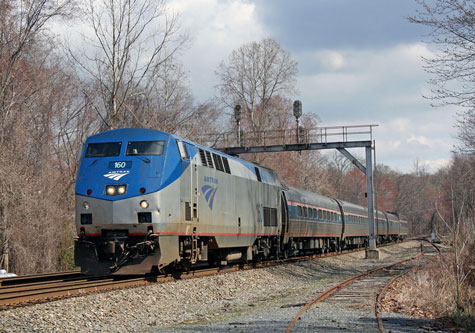 The CRA's Saint Patrick's Day Special (a.k.a. Amtrak's westbound Cardinal) ducks under a signal bridge as it rolls down the former Southern Railway main at Clifton, Virginia, on March 16, 2008. Twenty-eight CRA members and guests rode this train to Culpeper, Virginia, on the group's annual Saint Patrick's Day trip, which has been an annual tradition for over 30 years. Amtrak P42DC No. 160 leads three Amfleet coaches, an Amcafe, and a Viewliner sleeper. (Alex Mayes photo)
On March 15, 2009 we took Amtrak's Carolinian (No. 79) south to Fredericksburg, Virginia, departing Washington Union Station at 10:55 a.m. and arriving 11:57 a.m. to dine near the station and watch the trains come across the Rappahannock River bridge. Following dessert and Irish Coffee, we boarded the northbound Carolinian (No. 80) at 3:41 p.m. and arrived back in Washington at 5:08 p.m.
For our outing on March 14, 2010, we rode on the Capitol Limited from Harpers Ferry, WV, to Washington, DC, and back. Following lunch at the station and an afternoon of railfanning at the hub of the city's rail activity, we headed back aboard the westbound Capitol Limited.
In March 12, 2011, we planned to go to Wilmington, Delaware, to visit the newly-refurbished Amtrak station and a local museum hosting a railroad exhibit, plus have lunch at one of the restaurants along the scenic Riverwalk, but too few signed up to make the trip worthwhile. Going north out of DC on Amtrak is, per mile, much more expensive than going south over NS or CSX rails, and no doubt the ticket price in the $60-$70 range made such an outing less attractive. Our former VP, the late Jim Cummings, observed that $40 is the unwritten threshold for most railfans.
On Saturday, March 17, 2012, we returned to Fredericksburg on a day trip from Washington Union Station. Over two dozen Chessie members, family members and friends took part, with half boarding in Alexandria. The weather that day was the warmest of any Saint Pat's trip, and most of us had lunch at Brock's Riverside Grill overlooking the Rappahannock River, watching multiple CSX freight and maintenance-of-way trains go by. Lunch was followed by shopping in the stores near the station, enjoying the revelry in the streets as people celebrated the occasion. Everyone made it back to the station on time to catch our relaxing ride back home.
On March 17, 2013 we rode Amtrak to Charlottesville on a day trip and had lunch at the Wild Wing Cafe before catching a train back home.
Our March 16, 2014 trip was a Saint Patrick's Day Caboose Hop over both the northern and southern divisions of the Walkersville Southern Railroad that included photo stops en route, to include the Monocacy River trestle, followed by lunch at Eunice's Restaurant (now Nannie's Diner), a local "mom and pop" eatery at the corner of Route 15 North and Biggs Ford Road, where our dessert was a cake with the image of one of our cabooses on top. Thanks go to John Meise for the pictures and running the photo runbys!
Our 2015 trip was to take us on March 15 back to Culpeper, the destination of our 2008 excursion; however, ticket sales were too low to meet the 20-person Amtrak minimum for a group ticket and the trip was canceled. For 2016 we set up a "caboose hop" trip over the former PRR line in New Freedom, PA, to ride up to Hanover Junction, PA, aboard a caboose pulled by a GE 44-ton centercab locomotive over rails now operated by Steam Into History. Unfortunately too few people signed up to make the outing viable, so again the trip was canceled. For 2017 several different destinations were considered but nothing panned out, as they were in excess of three hours away and there were complications involved in attempting to book trips. A trip in 2018 was in development but there were logistical obstacles that could not be overcome. A couple of different sites in Pennsylvania were considered for 2019, but they were at least four hours away by car, making them simply out of reach for a casual day outing. Other trips will be considered in the future, and you can contact Chessie for trip status updates.
In the past we've booked a number of group outings aboard Amtrak trains to destinations such as Fredericksburg, Charlottesville, and Staunton, but today these are no longer possible. Years ago there was a 90-minute layover in Staunton between the outbound and inbound Cardinal, allowing us to have lunch at the restaurant in the former station, but rescheduling resulted in the return train coming through before our outbound train would have arrived. Charlottesville has been a destination in the past, but the current schedule allows only about an hour on site before we'd have to board and head home. At the same time, fare prices have risen substantially, serving as a disincentive to anyone interested in an inexpensive outing for the day. For example, while a one-way Northeast Regional ticket to Fredericksburg would cost $20, a ticket on the Carolinian, departing Washington at 11:10 a.m. and arriving at 12:21 p.m., would cost $37. Double that cost for a round trip ticket (with a small discount for a group of 20 or more), add the cost of lunch, and double all that too if you're bringing a friend or spouse, and you're racking up quite an expense for a day-long outing. The Regionals don't run at a time we'd want to travel and the Carolinian is priced to drive away short distance travelers, so future Amtrak rides appear unlikely.
In booking trips it has been noted that travel up the Northeast Corridor is, per mile, more expensive than southbound trips over CSX and NS rails, making northbound trips less popular. A past trip scheduled to Wilmington, DE, which would have cost about $75 per ticket, drew little interest, and in light of Baltimore's high violent crime rate, that destination is out of the question, as there is no desire to deliver senior citizen rail buffs to the city to make them easy prey for packs of predators.
Sometimes we get together for visits to local rail sites. For example, on June 16, 2007, we arranged a visit to Mirant's Morgantown Generating Station in Maryland, at the southern end of the former PRR Pope's Creek Branch, to see both the power generation facility and railroad equipment. In this picture by Gordon Bjoraker, Chessie member Bill Hopkins poses next to the former Washington Terminal Company Alco RS1 he maintained as a railway employee years ago. All of the Alcos at Morgantown were later scrapped in July 2013.
Subsequent visits took us to the power generating stations at Dickerson and Chalk Point in Maryland as well as Alexandria, Virginia. Later the plants were owned and operated by GenOn, which merged with NRG. Our Alexandria visit was planned in order to get a look at operations prior to the power station's shutdown, which came less than a year later. Soon the track serving the plant will be history, and with it the last surviving segment of the old Alexandria, Loudoun & Hampshire Railroad will disappear.
At the end of the summer we hold our annual picnic in conjunction with the Walkersville Southern Railroad at the Walkersville Community Park in Walkersville, Maryland. Our 2020 event was scheduled to take place on Saturday, September 5; however, the political environment was not conducive to holding a pleasant, enjoyable event, so we put it off until Saturday, September 4, 2021, and we had a grand time. No one went home hungry and the picnic was topped off by a train ride down the line and back. We repeated the success of 2021 on September 3, 2022, and we'll do it again in 2023 on Saturday, September 2 at 12:30!